corn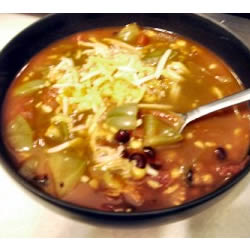 Yield
4 to 6 Servings
Ingredients
2 tablespoons olive oil
1 onion, chopped
1 clove garlic, minced
1 1/2 teaspoons ground cumin
4 green tomatoes, chopped
4 tomatoes, chopped
1 1/2 cups steamed corn
7 cups vegetable broth
salt and pepper to taste
Directions
In a stock pot heat the oil over medium heat. Add the onion and garlic, saute until soft.
Stir in the cumin powder, tomatoes and corn. Cook over medium heat for 5 minutes.
Stir in vegetable broth, reduce heat to low and cook until heated through. Season to taste with salt and pepper.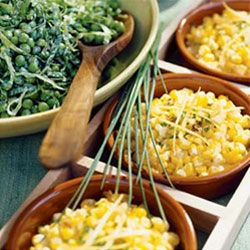 Ingredients
1 cup finely chopped onion
3 tablespoons vegetable oil
6 cups steamed corn kernels
1 cup white sauce
1 teaspoon sugar
Salt and pepper
Directions
1. In a 10- to 12-inch frying pan over medium-high heat, stir chopped onion in oil until lightly browned, 3 to 5 minutes.
2. Add corn and white sauce; stir till desired consistency add sugar, salt and pepper to taste.
3. Serve warm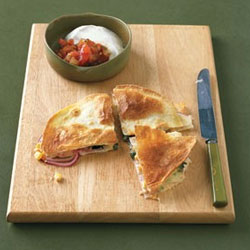 Yield
4 Servings
Ingredients
8 small (or fajita style) tortillas
2 teaspoons olive oil
1 ½ cups (6 ounces) grated cheese
½ small red onion, thinly sliced
2 cups corn kernels (frozen and thawed)
2 jalapeņos, seeded and finely chopped
½ cup fresh cilantro leaves
Sour cream and salsa (optional)
Directions
1. Heat toaster oven to 400° F. Brush one side of each tortilla with the oil.
2. Turn 4 of the tortillas over and top with the cheese, onion, corn, jalapenos, and cilantro. Sandwich with the remaining tortillas, oiled-side up.
3. Working in batches, transfer the quesadillas to a foil-lined toaster-oven tray.
4. Bake, turning once, until the cheese melts, 6 to 8 minutes total.
5. Serve with the sour cream and salsa (if using)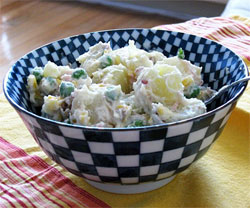 Yield
6 Servings
Ingredients
1 kg potatoes
5 tablespoons mayonnaise
6 tablespoons freshly grated Parmesan
½ cup frozen peas, thawed
½ cup frozen corn, thawed
4 slices prosciutto (ham), chopped (optional)
Salt, to taste
Directions
1. Scrub potatoes well. Add to pot of water and bring to a boil; simmer until potatoes are tender but not mushy, about 15 minutes. Drain and let cool.
2. Meanwhile, in a small bowl, combine mayonnaise with Parmesan.
3. Cut potatoes into bite-size pieces and place in a large bowl. Add mayonnaise-cheese mixture and mix well. Add peas, corn, salt and prosciutto (if using) and stir to combine. Taste and adjust seasoning if needed.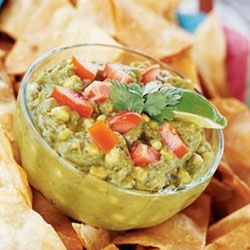 Yield
12 Servings
Ingredients
8 ripe avocados, peeled and chopped
2 2/3 cups frozen corn
½ cup fresh lime juice
1/3 cup firmly packed dark brown sugar
1/3 cup hot sauce
¾ teaspoon salt
2 ½ teaspoons ground cumin
1 teaspoon freshly ground black pepper
Peanut oil
Tortillas Chips (Nachos)
Salt
Garnishes: fresh cilantro, chopped tomato, lime wedge
Directions
1. Mash avocados in a large bowl to desired consistency. Stir in corn and next 6 ingredients. Cover and chill.
2. Serve chips with dip. Garnish, if desired.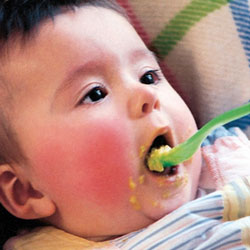 Yield
2 Servings
Ingredients
1 tsp olive oil
1 large carrot, peeled and chopped
1 potato, peeled and chopped
1 tbsp frozen peas
2 tbsp frozen corn
4 tbsp water
Directions
1. Heat the olive oil in a small pan over medium heat. Add the carrot and fry until soft, about 5 minutes.
2. Add the potato, peas, sweetcorn and water and stir to mix. Bring to the boil, then reduce the heat, cover and simmer for about 15 minutes, stirring occasionally to prevent sticking.
3. Puree by pushing through a sieve or by using a liquidizer. Add a little more water if a thinner consistency is preferred.